Landis+Gyr E120GiME Integrated AMM meter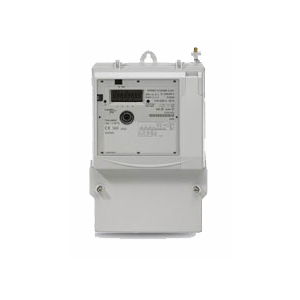 The most advanced GPRS meter for the residential metering segment
This meter offers several ways to read, manage and control energy information. It is a part of L+G's AIM system. Easy installation and system set-up, reliable operation and communication and care-free maintenance create the perfect solution for different metering needs.
Leading technology
The E120GiME has a metering core of an electronic class B electricity meter and an integrated GPRS communication module with TCP/IP. Its most advanced GPRS technology is reliable and excellent for point-to-point services. Additionally to the traditional two-way communication the efficient and robust data push, initiated by the meter guarantees your service levels even in the larger and more challenging environments when AIM MessageMax communication front end is selected to be a part of the communication solution. The E120GiME can also act as a communication gateway to other meters, providing a cost efficient solution and point-to-point advantages in point-to-multipoint locations. E120GiME can handle communication for up to 48 E120iME meters. Local communication between E120GiME and E120iME devices is via wireless technology so there is no need for extra wiring.
Consolidated multi-energy management
E120GiME meters provides you the benefits of the multi-energy measurements for heat, water and gas with the standard M-Bus interface and protocol. E120GiME acts as M-Bus master providing you the tools of the AIM system for all energy forms with the cost savings of utilizing the same metering value chain. Naturally The S0 inputs can be used to gather metering values to the system from pulse generating multi-energy devices as well.
Easy deployment
The E120GiME is easy and fast to install. The meter guides the installation and informs clearly if something is incorrect. The device has an internal GSM antenna, which speeds up installation. An external antenna can be added later, if needed, without removing the meter's seals. With Site Manager application you can automate and organise the installation process and minimise human error both in the system and out in the field. The Site Manager application includes installation of E120iME devices under E120GiME and changing meter configuration at the installation site.
Reliable operation
After the meter has been installed and the location has sufficient GSM coverage, the E120GiME is easy to connect to an AMR system. E120GiME provides real-time power cut and resume information to the system for better customer service and statistics. The meter's versatile registers and logs record metering data and events, like configuration, voltage levels and relay status changes etc. and are available from the system. E120GiME does not only gather electricity metering information.
Personal energy management with Eco-Meter
E120GiME provides wireless connection for the Eco-Meter to support the end customer the energy usage awareness. E120GiME is bringing the utility services to the end user by ease of modern technology.
Features
Used for residential point-to-point metering
Metering room solution with wireless RF solution
Also M-Bus version to connect district heating meters and water meters
Versatile controls for device and load management
Immediate power outage and recovery information
Alarm and monitoring services
Easy, quick and secure meter installation and system set up
ODEP protocol for flexible system connectivity
Variations
E120 meters available with different IO-options
EPS30, Enermet Power Switch, can be used with E120Gi meter
Downloads

Landis+Gyr Residential Electricity Meter Brochure