Landis+Gyr E120LiME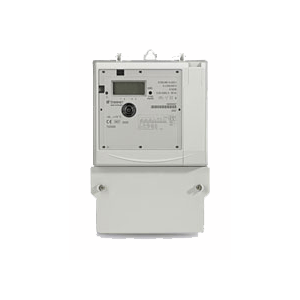 Residential three-phase meter for use in urban environments
The E120LiME is an electronic integrated class B electricity meter. It is a part of L+G's AIM system. The system has been designed for energy utilities and property maintenance companies to make management of energy consumption and metering information easier and more efficient. E120LiME is versatile, reliable and easily installed and configured.
Versatility to Future
E120LiME is designed for household metering in urban areas, either in apartment buildings or single houses. The relay outputs can be used to control different loads like heating. Relays can be controlled by the programmable week calendars, dynamic commands or directly from the AIM system. The meter communicates using the Echelon LonTalk® protocol, an open standard making it possible to use the meter in different metering systems. Multiple input/output options and open communication make the E120LiME a flexible and versatile metering tool both now and in the future.
More Value for all energy forms
E120LiME does not only gather electricity-metering information. E120LiME meters provide you the benefits of the multi-energy measurements for heat, water and gas with the standard M-Bus interface and protocol. E120LiME acts as M-Bus master providing you the tools of the AIM system for all energy forms with the cost savings of utilizing the same metering value chain. Naturally The S0 inputs can be used to gather metering values to the system from pulse generating Multi-Energy devices as well. The meter has four internal tariff registers that are controlled by a week calendar and can be configured from the system. The meter also monitors and records power quality (over/under voltage), power cuts, alarms and events. All registers and relay status can be read from the system and alarm limits can be set according to needs.
Safely into the future
The E120LiME integrated meter meets strict environmental requirements. All device parts can be recycled and the packaging is made of recyclable cardboard.
Features
Accuracy Class:Class B for active energy (kWh, according to MID)Class 2 for reactive energy (kvarh)
S0 inputs (2 pcs, option)
Load control relay output (option)
Service relay output (option)
Real-time Clock
Overvoltage protection
LCD display wtih 8 digits
Self-diagnostics
M-Bus master
Downloads

Landis+Gyr Residential Electricity Meter Brochure