Landis+Gyr E880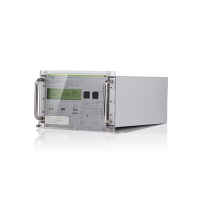 Metering innovation for digital substations with non-conventional instrument transformers
The E880 is a high-precision electricity meter designed for transmission networks and digital high-voltage substations with non-conventional instrument transformers (NCIT) according to IEC 61850 standard. The meter uses digital sample values of phase voltages and phase currents as per IEC 61850-9-2 LE for billing and diagnostics. The merging unit's current and voltage outputs enter the E880 grid meter as a single data stream. The input for sampled values is adaptable to every substation environment either using optical fiber (100 base FX) or Ethernet with RJ45 (10 base TX), and covers different customer needs. E880 delivers operational efficiency thanks to its full compatibility with the customer's existing meter reading system and a comprehensive, future-proof functionality set, including modular multi-channel communication platform.
Based on the proven E850 technology, the E880 grid meter offers top accuracy and long-term stability in energy measurement under all operating conditions. The highest metering accuracy generates savings for the customers and the precision is guaranteed even at the lowest load of 2% in a single-phase operation, unbalanced or cos φ below 1. The E880 powerful measurement system provides sufficient resolution for measurement periods under 15 minutes (1 to 5 minutes), accurate metering when energy direction changes and very low sensitivity to temperature changes.
Easy to handle rack mount design enables energy companies to save installation costs and space.
The E880 grid meter is available in one main version:
E880 f9 rack mounted with Essailec® connector
Features
Accuracy class 0.2S for active energy and 0.5S / 1 for reactive energy
Values sampled 80 times per cycle (4000 samples per second at 50Hz, 4800 samples per second at 60Hz)
8-digit liquid crystal display (LCD) for local reading of data
Exchangeable communication modules (RS 232 / RS 485 / Ethernet / GSM / GRPS / UMTS (3G))
Integrated optical interface and RS485 serial interface with DLMS protocol
Communication with several third-party suppliers
Up to 8 transmitting contacts (for energy flow, load supervision (Pmax, Qmax), capture period)
4-quadrant measurement (+P -P, +Q -Q, Q1..Q4)
Measurement of instantaneous values of phase voltages and currents
Phase angle measurement and detection of direction of rotating field
Monitoring of instantaneous values of voltage (unbalance, over/undervoltage, outage) and current (unbalance, overcurrent)
Voltage dip table
Tariff control
Time-of-use (TOU)
Load profiles
Daily snapshot
Stored billing value profile
Harmonics and total harmonic distortion (THD) monitoring
Line and transformer's loss measurement
Total losses of active and reactive power
Overload supervision of the line
Single phase energy measurement
Average demand, maximum and cumulated maximum demand
Apparent energy measurement
Power factor monitoring
Frequency monitoring
Bypass feeder operation
Event logs
Downloads

Landis+Gyr E880 Brochure