Ericsson and Landis+Gyr partner to empower Smart Metering and Smart Grid projects in the Middle East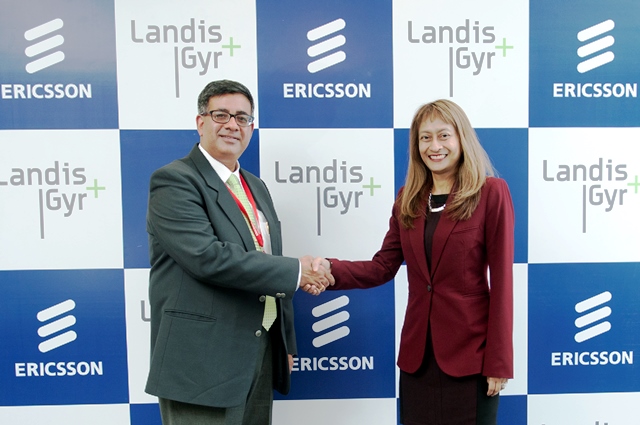 Utilities in the Middle East set to benefit from state-of-the-art smart metering solutions designed to create smart grid environments in cities across the region
Joint effort focused on assisting the region's utilities, improving energy efficiency and increasing customer satisfaction by providing the highest service standards
Landis+Gyr, global provider of energy management solutions, and Ericsson (NASDAQ:ERIC), global technology communications and services provider, have created a partnership to address the Middle East's Smart Metering and Smart Grid transformation projects.
Under the terms of the partnership, Ericsson and Landis+Gyr will support utilities across the region with solutions that deliver key data required to cultivate active relationships with end-consumers. The objective is to create smart energy networks that are able to manage large amounts of data. As a result, opportunities for efficient grid and energy consumption management, as well as seamless integration of micro-generated, renewable energy sources will be realized.
Rajiv Sawhney, Managing Director Middle East at Landis+Gyr, says: "Ericsson's expertise complements our own, allowing us to expand our smart products and services into the Middle East, thereby empowering utility providers with our ever-evolving, future-proof services portfolio."
Rafiah Ibrahim, President of Ericsson Region Middle East and East Africa, says: "Mobility and connectivity is driving the transformation to the Networked Society in the Middle East, and cities across the region are aware now – more than ever – of the importance of sustainability. In partnership with Landis+Gyr, we are able to deliver smart solutions to the energy sector, allowing utility companies to improve energy consumption and to use connectivity for sustainability."
Smart grid technology changes the way utilities manage infrastructure, resources and data. Intelligent devices – such as smart meters and distribution devices – monitor the grid, report information and deliver remote access to control a variety of important functions on a minute-by-minute basis. The value of this technology infrastructure is soon realized in applications that help the utility promote energy efficiency, provide dynamic pricing options, improve reliability of service and reduce costs.
About Ericsson
Ericsson is the driving force behind the Networked Society – a world leader in communications technology and services. Our long-term relationships with every major telecom operator in the world allow people, businesses and societies to fulfil their potential and create a more sustainable future. Our services, software and infrastructure – especially in mobility, broadband and the cloud – are enabling the telecom industry and other sectors to do better business, increase efficiency, improve the user experience and capture new opportunities. With more than 110,000 professionals and customers in 180 countries, we combine global scale with technology and services leadership. We support networks that connect more than 2.5 billion subscribers. Forty percent of the world's mobile traffic is carried over Ericsson networks. And our investments in research and development ensure that our solutions – and our customers – stay in front. Founded in 1876, Ericsson has its headquarters in Stockholm, Sweden. Net sales in 2013 were SEK 227.4 billion (USD 34.9 billion). Ericsson is listed on NASDAQ OMX stock exchange in Stockholm and the NASDAQ in New York.
About Landis+Gyr
Landis+Gyr is the leading global provider of integrated energy management products tailored to energy company needs and unique in its ability to deliver true end-to-end advanced metering solutions. Today, the Company offers the broadest portfolio of products and services in the electricity metering industry, and is paving the way for the next generation of smart grid. With annualized sales of more than US$1.5 billion, Landis+Gyr, an independent growth platform of the Toshiba Corporation (TKY:6502) and 40% owned by the Innovation Network Corporation of Japan, operates in 30 countries across five continents, and employs 5,500 people with the sole mission of helping the world manage energy better.
Media Contacts
Ericsson External Communications, Region Middle East
E-mail: ericsson.external.communications.mea@ericsson.com
John Harris, Vice President and Head Governmental Affairs and Communications
Landis+Gyr AG, Alte Steinhauserstrasse 18, 6330 Cham
Tel. +41 41 935 6439 Mob. +41 76 315 6310
E-mail: john.harris@landisgyr.com