Are smart cities smart investments? They certainly can be. It depends on where you start and what you add to your infrastructure. Most experts maintain that packing multiple applications onto your smart city network is the way to maximize ROI. What's more, it doesn't need to start as a smart city network. Often, it starts as advanced metering infrastructure (AMI).
Lighting the way
Ross Malme, a partner in the energy consultancy Skipping Stone and long-time leader in the demand management arena, chaired a smart city's panel discussion at DistribuTECH 2017. "I had four utilities on my panel, and each one of them was in the process of deploying AMI with smart LED street lights added on," he recalls.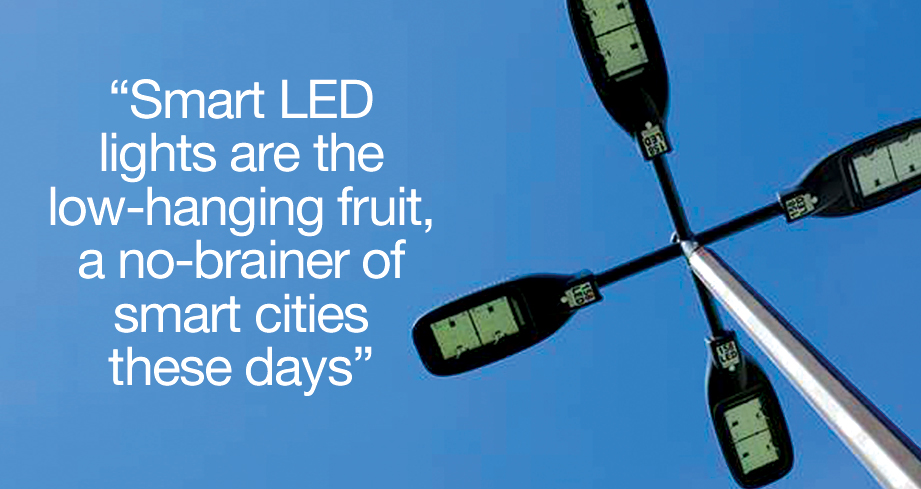 "Four years ago, if you'd approached a utility and said, 'Hey, can we leverage your AMI network to hang some smart city applications on them, most utilities would have come back with a 'no.' Smart LED lights are the low-hanging fruit, a no-brainer of smart cities these days," Malme says.
There are several reasons why. For one thing, LED lighting costs have gone the way of solar and storage prices — they've dropped precipitously.
In 2013, the LED lightbulb that replaced a 60W incandescent bulb cost an average of $25. For a house with 40 lightbulbs, that was a $1,000 upgrade. Today, $32 buys a 16-pack at Home Depot.
Meanwhile, at the same time those LED prices dropped, internet-of-things technology started to proliferate, and adding controls to the lights became feasible, which adds to the energy savings.
Those who have, get more
Scott Owen, business unit manager at LED Roadway Lighting explains, "You can make LEDs brighter in response to some event, like the sirens from a first responder, a noise or a motion. And, you can manage lumen output for a particular application or event."
Both capabilities have value. There's enhanced safety to be had if sensors on the lights detect gunshots or signal the approach of emergency vehicles by flashing so other cars can get out of the way. There are also cost savings to be gained by dimming lights late at night, when fewer people are on the roads.
Managing lumen output can extend the life of the lamp itself, too. "There's an application called constant lumen output that allows you to compensate for the fact that the street light's engine deteriorates over time," Owen explains. By running the lamps at reduced outputs in early years of their lifetime and gradually increasing lumens, you maintain consistent lumen output for 20 years or more.
Other applications being coupled with the AMI/lighting networks abound. "You can hang traffic monitoring equipment, weather monitoring … I even saw an application for Amazon drone-charging stations," says Malme.
But, here's the real payoff with smart LED lighting: "A city may be able to pay for the lighting upgrade within three or four years based only on the energy savings," Owen says.

The City of Los Angeles, one of the early adopters of smart LED street lights, is a case in point. That city started converting its sodium-vapor street lights to LEDs more than seven years ago. With 80 percent of the lamps converted, it was saving $9 million annually on the city's electric bill from this $57 million investment.
"This savings is all the more significant when you consider that some 30 percent of an average city government's costs are related to energy," notes Victoria Gunderson, an international trade specialist with the U.S. Department of Commerce.
Along with energy savings, Gunderson, points to fewer truck rolls for bulb replacements and repairs as ways to justify smart city investments to decision makers. And, like Owen, she sees value in secondary and tertiary benefits. "They can seal the deal" she says, adding that stacking multiple applications or uses onto one light pole harkens back to the tradition of stringing multiple networks on one power pole in rural America. "Your broadband, your telecommunications and your electricity all used the same pole. You've made one asset much more valuable because you can use it for multiple things."
Here's another benefit of putting AMI radios atop light poles: You strengthen the AMI network. Partly, that's a factor of line-of-sight visibility for the communicating devices, which improves with the height of the radios. "Latency goes down because there are fewer hops from the meter to the head-end system," Malme says. "The AMI network becomes more resilient and faster."
Inside story
Lighting may be what Owen calls an easy-to-justify "anchor tenant" for smart city network infrastructure, but it's not the only business case utilities might want to consider. Pat Sapinsley is managing director of cleantech initiatives at New York University's Tandon School of Engineering. As part of its Urban Future Lab, her organization works with several start-ups engaged in demonstration projects for the State of New York's Reforming the Energy Vision (REV) initiative.
According to a state website, New York's REV aims to lead regulatory changes that "promote more efficient use of energy and deeper penetration of renewable energy resources such as wind and solar."
"A city that uses less energy is a smarter city," says Sapinsley. "Energy efficiency is a service that utilities should offer, and they should be compensated for it."
Where do smart city applications come in? "A city that uses less energy is a smarter city," says Sapinsley. "Energy efficiency is a service that utilities should offer, and they should be compensated for it."
With that in mind, one company associated with Sapinsley's lab is working with National Grid and ConEd to help city residents gain household energy-efficiency upgrades. She explains: "The utilities will send out a questionnaire to homeowners saying 'Are you uncomfortable temperature-wise in your home? Is it too drafty in the winter and too hot in the summer?' if people say 'yes,' the company will go in and retrofit the home."
Sealed, the company Sapinsley references, gains because they have no customer-acquisition costs. "It means they can compensate the utility for working with them on this. That's how the utility makes money doing energy efficiency," she says.
ThinkEco, another firm in Sapinsley's lab, manufactures what they call a modlet – or modern outlet – that plugs into a standard wall outlet and measures power on a per-minute basis. It also communicates via Wi-Fi.

Sapinsley says the device is smart enough to know when an air conditioner is plugged into the modlet, and it will initiate dialogue via a customer's smart phone or computer, inviting the customer to participate in a utility's air-conditioner-based demand-response program. ConEd is using the technology for coolNYC, a window air conditioner program that rewards New Yorkers for letting the utility control their ACs.
Wavelength, another company in the NYU Tandon's school's lab, offers lighting as a service. "It's a little like a power purchase agreement in solar," Sapinsley says. "Wavelength upgrades your lighting, owns it and maintains it. You agree to pay for it for a certain number of years."
Navigant Research forecasts market growth for lighting as a service to shift from $35.2 million global revenues in 2016 to $1.6 billion by 2025. And, this service makes sense. Although the Energy Information Administration finds that 91 percent of commercial buildings now contain at least some fluorescent lighting, only three percent have switched to LEDs. Both are better than incandescent light. CFLs use about 25 percent less energy than incandescent bulbs, but LEDs use 75 percent less and last 25 times longer, according to Department of Energy figures.
Sapinsley says between 70 percent and 80 percent of the energy consumed in any city is consumed by its buildings. According to EIA, 17 percent of that goes into the lighting.
Just as LEDs on the road are a no-brainer for city governments, Sapinsley says, "It is absolutely a no-brainer to do LED lighting in a building."
Who knows? It may also be a smart-city revenue opportunity for utilities in the future.