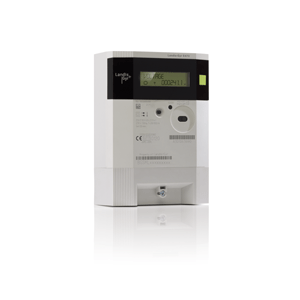 Electricity Meters
Landis+Gyr E470
SSWG compliant with future proof – field upgradeable via Over-The-Air (OTA) upgrades Supports Credit and Prepayment accounting modes In built 100A contact and relay output connections Load Limiting capabilities Voltage quality measurements for network operators Open and interoperable – DLMS… Read more
Features
Communications
The E470 uses ZigBee Smart Energy Profile to communicate with other devices such as an In Home Display Unit and for communication with the External Communications Hub via a Home Area Network (HAN).
Through the hub the E470 communicates using DLMS/COSEM over the Wide Area Network (WAN) to a Head End System (HES).
Tariffs
Time Of Use.
Block thresholds.
Single Rate, ToU or Combination pricing schemes.
Standing Charge Collection.
Profiling
The meter supports continuous profiling of measured values:
General Profile: Stores electricity related information at regular intervals throughout the day, e.g. Every 30 minutes.
Daily Profile: Stores values every 24 hours that can be used for daily reads.
Firmware Upgrades
The meter supports the use of 'Over the Air' upgrades. This allows additional features to be sent to the meter without the need to visit the consumer premises.
Events
The meter supports the following event logs:
Standard meter events.
Power fail events.
Fraud detection events.
Contactor Control events.
Disconnector
Supply can be disconnected via remote communication and re-enabled manually via push button following a remote enable command.
Disconnection by utility, empty property, non payment etc.
Remote re-connection (following action by the consumer).
Fraud Detection
The meter supports the following fraud detection features:
Detection of strong DC (magnetic) field.
Detection of terminal cover removal.
Detection of main cover removal.
All tamper events are stored in dedicated event log for push to HES.
Messaging
The meter is capable of showing messages from the utility on the meter display.
Availability
Europe, the Middle East and Africa